EDITOR'S NOTE: The information regarding Covid restrictions has recently been updated.
You can find the latest information here: NSW Covid-19 Freedom Roadmap for Weddings and Events.
Today the NSW Covid Restrictions eased for Weddings to allow 30 Guests on the Dance Floor. We are so delighted that NSW Premier Gladys Berejiklian has announced an easing of coronavirus restrictions. The announcement comes as NSW recorded its 38th consecutive day without a local COVID-19 transmission.
The Premier said barring any unexpected outbreaks, from March 17 patrons will be able to stand and drink indoors at pubs. She added that the government would also be revisiting the cap on the number of guests at weddings on this date.

Ms Berejiklian also revealed 50 people will now be allowed inside a private home, up from the current limit of 30.

"As you see, these are a combination of very positive easing of restrictions," Ms Berejiklian said.
*featured image by Tom Coburn
Major points of the easing of the NSW Covid Restrictions for Weddings include;
Weddings can also have 30 people on the Dance Floor, and they do not need to be the same 30 people.. just 30 at any one time.
The limit on the number of Wedding guests may be lifted to 300 people, to be announced on March 17.
Patrons may potentially also stand up while drinking indoors, to be announced on March 17.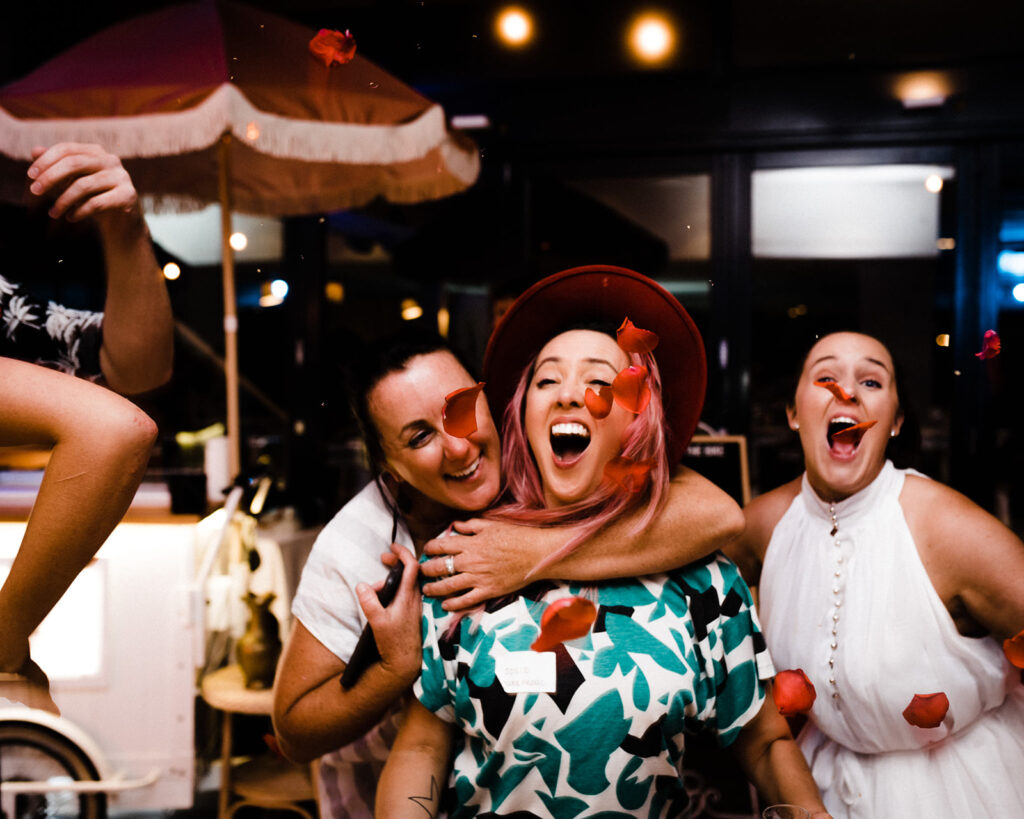 The easing of restrictions will come into place this Friday 26th February, 2021. Ms Berejiklian said despite the easing of restrictions people would still be expected to adhere to social distancing, good hygiene, and testing.

Event Entertainers and our artists are thrilled that the NSW Covid Restrictions have been eased for Weddings to allow 30 Guests on the Dance Floor!
Book your Wedding entertainment with us today.
Contact us via info@evententertainers.com.au or make a time to book a call with us HERE.


Artists we highly recommend for getting your Dance Floor moving
A fresh approach on your old favourites or a twist on modern hits. From chilled dinner music to dance floor fillers, the Luke Zanc Trio provide professionalism, sweet sounds, and exceptional entertainment for your event. From beautiful wedding ceremonies in Berry, amazing wedding receptions in Port Stephens, or corporate events in Sydney, the LZT repeatedly deliver 5-star performances for Event Entertainers' clients.
Duke Music have established themselves as one of Sydney's most coveted bands. They're regularly booked by corporate event organisers and wedding planners. Their repertoire includes beautiful folk & pop songs, classic laid-back lounge, and sassy upbeat pop tunes.
Event Entertainers present this brilliant collaboration of hot music talent, Tequila Mockingbird. Sydney based party band have boldly burst onto the live-music & events scene as Australia's premier show and party band, Tequila Mockingbird guarantee a party you won't want to miss.
Ned Verwey Band
Performing a variety of rock, pop, funk, soul, jazz and folk, the Ned Verwey Band have a wide-ranging repertoire to suit any event: A solo Acoustic-Guitarist and Vocalist, or a rocking 6-piece Band for your dance-floor to get your party started. Ned ensures he delivers the perfect live music to fit any event. Ned and his band members maintain a level of professionalism and a love for music of the highest quality.
Event Entertainers present the talented, charismatic, and award-winning multi instrumentalist and vocalist, Chris Gable. Chris has been performing at weddings, corporate gigs and private parties for well over a decade, as a soloist and part of small to large bands; as such, the three musicians featured in the Chris Gable Trio can suit almost any entertainment requirement.
The Tannah Kirsten Trio
The Tannah Kirsten Trio are a popular option for clients looking for the perfect mix of ballads and jazz music, right through to upbeat dance sets! Their instrumentation features a double bass/guitar and percussion, and give the Tannah Kirsten Trio a richer and fuller sound matched with the perfect repertoire tailored to suit any event.
Rhiannon Kate Band
Combining with some of Sydney's best musicians, Rhiannon can also perform as a Duo accompanied by a keyboardist, as a Trio with a keyboardist & drummer, or with her full band. This allows Rhiannon Kate to transition from performing intimate live music during canapés service, into slamming party tunes once your guests are ready to party!
Upbeat dance tunes or relaxed background music, Double Shot deliver a high-quality performance. Their musical versatility sees them performing dance floor anthems, R&B, smooth jazz, classic rock and everything in between. From cocktail hour to the dance floor, your whole day is covered with flexible packages available featuring an Acoustic Duo, Trio, or Party Band.
Book your Wedding entertainment with us today.

Contact us via info@evententertainers.com.au or make a time to book a call with us HERE.