A rainy day typically dulls the mood, causes plans to fall through and drives everyone indoors. However, not for Naomi and Graeme. The rain gods wasn't going to stop them from having the time of their lives. So, they switched gumboots for heels and umbrellas for sunglasses, and literally made a splash, to mark this special celebration. Naomi and Graeme chose to have their wedding at the exclusive Peats Bite, located in the beautiful Hawkesbury River. This was the perfect spot to have a wet weather wedding, as the backdrop of the river and bushland, mixed with the raindrops, provided the perfect colour palette and textures for vintage style wedding photography.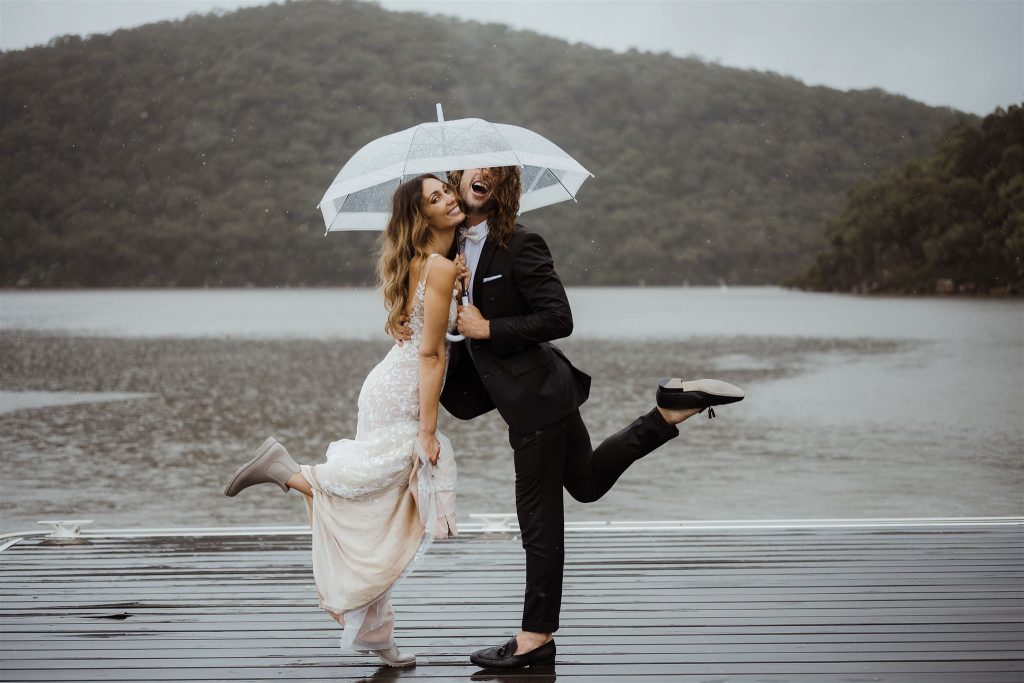 AN ENTRANCE TO IMPRESS
With access to Peats Bite by boat only, this meant an adventure for all the wedding guests. They all arrived in their chosen mode of sea transportation. For Naomi and Graeme, if they were going to make an entrance, they were going to do it in style. A grand entrance in a fully catered yacht was how they did it and it sure got them the attention they deserved!
WORTH THE WAIT
For Naomi and Graeme this fun filled day was a big celebration of their marriage. They had already tied the knot and couldn't wait to celebrate. This was a chance to share the full wedding experience with their wider circle of friends and family. It was definitely a party worth waiting for. Here are some highlights of their larger than life celebration.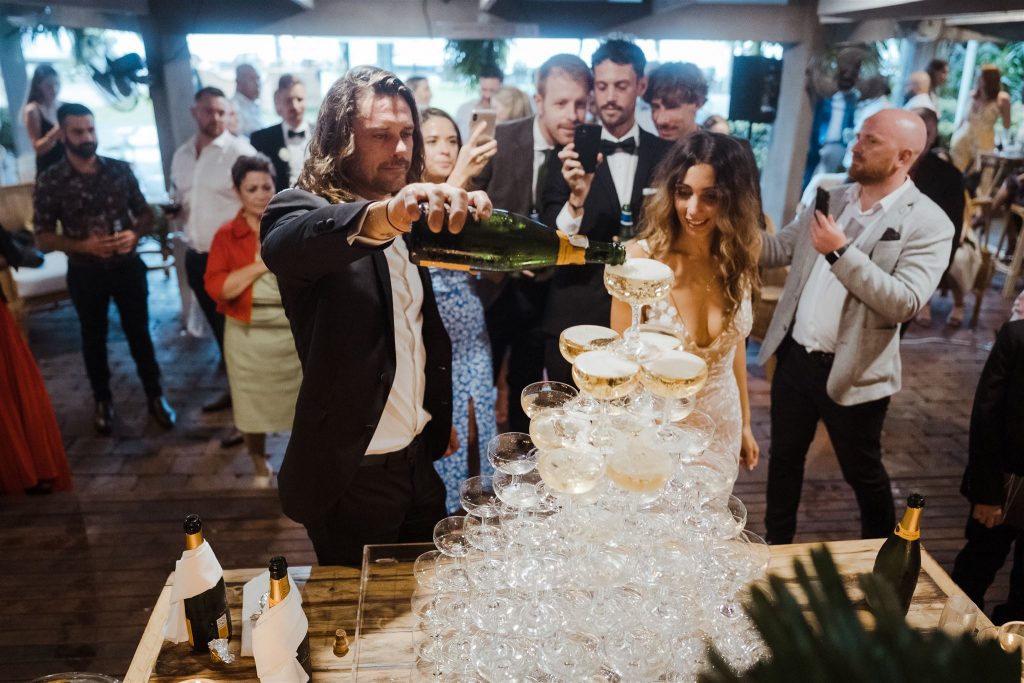 THE MUSIC
Yeah Nah Yeah were chosen to help elevate Naomi and Graeme's wedding celebration. Choosing an all day music package meant that their special day would include an immersive experience of unforgettable moments. Naomi and Graeme did not want the clichéd wedding feel. So, the Yeah Nah Yeah duo went outside their usual repertoire to incorporate couple's love for old school hip hop, and music from the 90's and early 2000's.
What resulted was perfectly curated entertainment, that striked the perfect balance between live music and DJ music – A real party vibe, yet intimate enough to celebrate the love of two souls.
Music highlights of this Peats Bite Wedding, included live acoustic versions of "Honey" by Mariah Carey for the bridal entrance to "Home" by Edward Sharpe and the Magnetic Zeroes. This was contrasted by the ODESZA remix of Hayden James' "Something About You" for the boat arrivals to the Jayz Z/Otis Redding "Try A Little Tenderness" remix for first song to kick off the dance floor.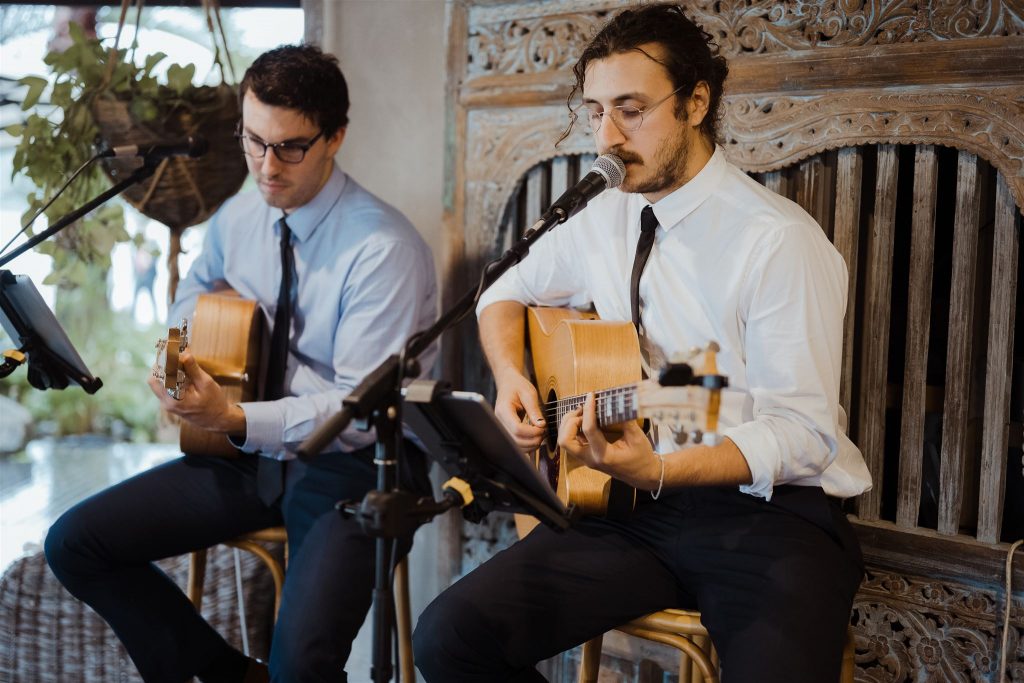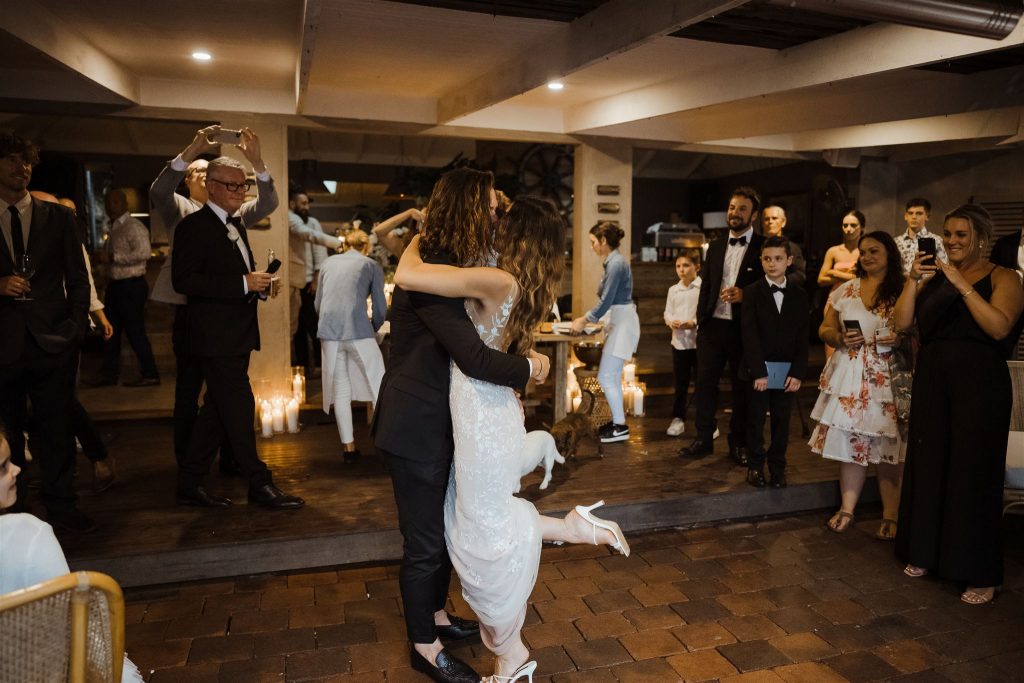 Their Wedding Vendors
VENDORS
This unforgettable Peats Bite Wedding was made possible by the following vendors:
Photography: Jason Corotto @jasoncorrotophoto
Venue: Peats Bite @peatsbite
Event Planner: Little Lane Events @littlelaneevents
Florist: Wild Lotus @wildlotusflorist
Celebrant: Zoe Wieringa @zoewieringacelebrant
Music: Yeah Nah Yeah @event_entertainers @yeahnahyeahmusic