Jets Music are an acoustic collaboration of some of Sydney's finest professional musicians. Established in 2016 by vocalist Beni Falemaka and guitarist Brett Dengate, they earned a reputation for bringing a unique and full sound to their audience, and quickly became one of Sydney's most in demand live entertainers.
With the demand growing, it was time to expand the lineup. In early 2019, seasoned vocalist Jasmin-Jade Nasser (The Voice, 2016) was added to the roster, giving Jets Music clients the option to choose customisable lineups.
Jets Music regularly perform as Duo, Trio and Band at weddings, events, bars, clubs and restaurants all over Sydney.
With a repertoire ranging from beautiful dinner music, to classic dance floor songs, they are the perfect soundtrack to any event.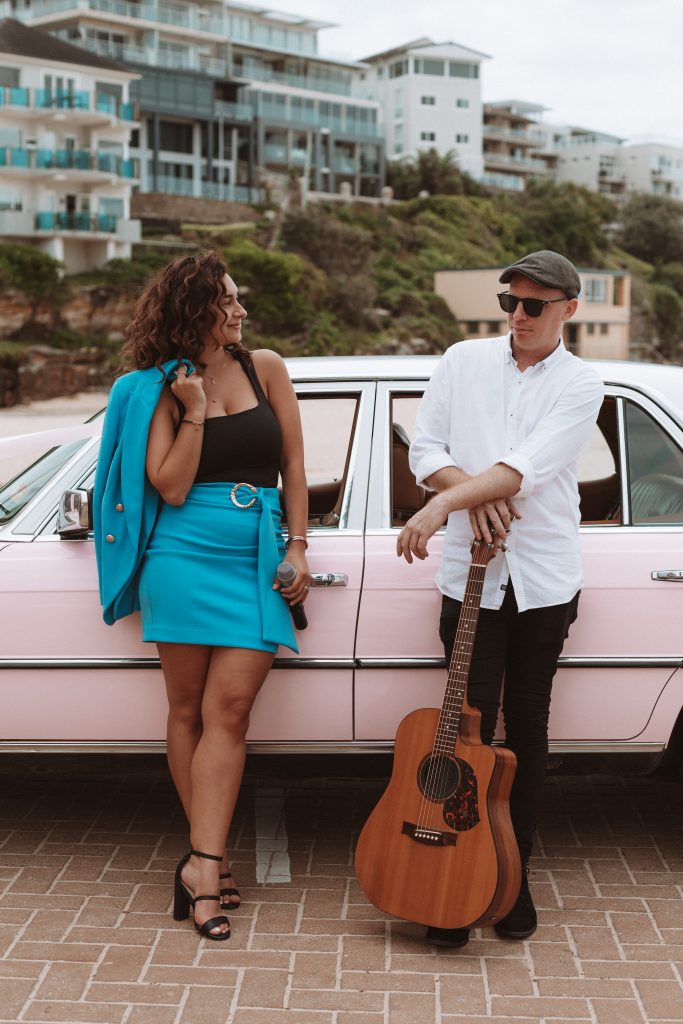 Reviews
"OMG!! Thank you! You guys were amazing and such a great hit! There were quite a few little hiccups throughout the event (from the venue!)
but the constant was the quality of you two. Everyone absolutely loved you and you were the highlight! Besides the happy couple of course lol! We will definitely be plugging and praising you all over!"
"Us and our guests absolutely loved Jets Music at our wedding in Feb 2021! Brett, Beni & Jas worked so well as a trio and smashed all their sets from chill hits to upbeat songs for dancing!"
"It's been 4 weeks since our wedding day and our guests are still raving about you guys!! It was just so perfect on the day. Beni your voice is just amazing, and Brett I can't thank you enough for playing in that teeny tiny chapel with no direction from anyone. Absolutely adore you guys. I'll definitely have to get you back for whatever celebration I can muster"
"
Hi Josie,

Thank you so much for your help in organising the live music act for my husband's birthday.
We were delighted with the music and Jasmine, Beni and Brett were just fabulous.
We could not have been happier."


"Jets were awesome and I think the style of music worked really well for our demographic. Quick to set up, catered to our timings and were a delight to have!
Thanks so much for organizing!"
"Dane and I would love to thank you for all your assistance with the lead up to our big day.
The band were incredible and all of our guests (including us) absolutely loved them. Many of which asking for details for future events. We are so thankful it all went off without a hitch. Our daughter especially loved her purple hair which excited her so much! Please pass on our message and sincere thanks to the band! The helped make our night what it was!  Thank you."
"Wow, just wow! From the intimate melodies during the ceremony to the high-energy hits that shook the dance floor at the reception, Jets Music exceeded every expectation. The personalized touch they added to our ceremony made the moment truly magical. Jets Music took our wedding reception to a whole new level of amazing. The dance floor went off from the moment they started playing, and they kept the energy soaring all night. Their versatility and talent had everyone on their feet. Jets Music played a key role in making our wedding unforgettable, and we're so grateful for their incredible performance. They are an absolute must-have!"
Watch The Jets Music's promo video
Frequently Asked Questions
What type of music do Jets Music play?
Jets Music are perfect for grooving and unique modern RnB mixed with classic soul vibes. Stevie Wonder to Bruno Mars and all the good times in between!
What are Jets Music's most popular packages?
The Jets Music Duo and Trio are versatile in any setting, however they're most well known for their all day wedding packages featuring a live performance as a Duo during your Ceremony and Canapes, as a Trio during your Reception, and finish the night in style with their DJ service.
Can we customise our package?
Absolutely! Jets Music love working as a Duo and Trio and offer the option to choose between a Male or Female Vocalist, or both!
Where can I see Jets Music perform live?
Our team are very often performing regularly in Sydney CBD. For more information regarding detailed performance times and dates, please contact us via info@evententertainers.com.au.
Do You Want Jets Music At Your Event?
Enquiry
"*" indicates required fields