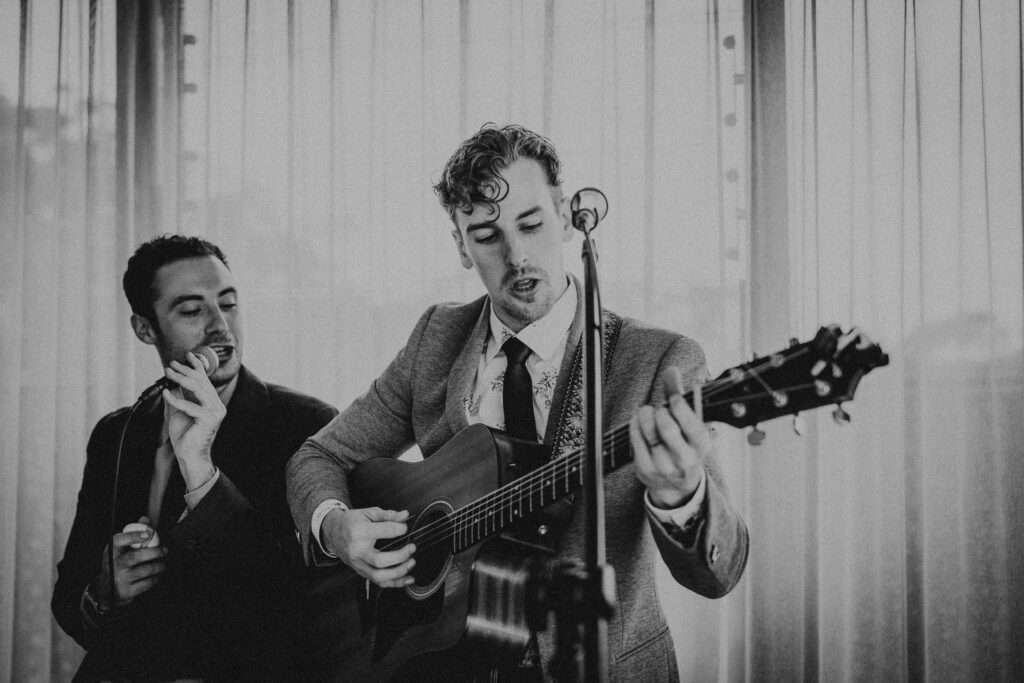 It's always an honour of ours to be joining the wonderful wedding vendors who make up the preferred suppliers of the Taronga Centre. Despite the tight turn-around with Covid restrictions being eased enough to allow the day to happen, the day went brilliantly. We loved the opportunity to meet with Brides and Grooms throughout the day to discuss their packages and offerings, whilst our musicians Vale and Azura entertained guests on the Gili Rooftop.
We thought we'd share a little more about the Taronga Centre and the live entertainment offerings we can provide for you in each of its diverse event spaces.
Getting married at The Taronga Centre
The Taronga Centre in Mosman is arguably Sydney's most romantic and picturesque venues. Located in Mosman, it boasts breathtaking views over Sydney Harbour making it one of Sydney's most sought after wedding venues. Whether it is an intimate wedding reception of 30 guests or an extravagant 350 guest cocktail reception, the Taronga Centre is a spectacular and unique location for your special day. Managed by EPICURE they are passionate about two things: creating food that is delicious and delivering a service second to none. Their dedicated team combines fresh and gourmet cuisine to create delicious seasonal menus, with a keen eye for detail and exceptional service from your initial enquiry through to the execution of your celebration.
Their Wedding spaces are flexible and unique, depending on the number of guests you're expecting and whether it's cocktail style or you're having a sit-down dinner. We've posted some handy guest numbers for you, below. Another bonus of getting married at the Taronga Centre is that You can also duck off for photo opportunities near any of the exhibits at the Zoo.

Why Get Married At The Zoo?
Couples choose Taronga Zoo Sydney for its joyful atmosphere, beautiful grounds and unsurpassed nature experiences near to the city. From the moment you step through the gates, this wildlife wedding venue in Mosman provides a memorable backdrop where unique animal encounters and sociable event spaces come together in harmony.
From elegant ballrooms to modern rooftop terraces, Taronga Zoo has a plethora of desirable locations to tie the knot and celebrate your reception. The expert Wedding Coordinators will be able to transform each space into an area that reflects your unique personalities whilst keeping in tune with the signature Taronga Zoo environment.
The rolling lawns that stretch down towards the Sydney Harbour waters make for exceptional photo backdrops as well as outdoor ceremony and marquee spaces. In every season, Taronga Zoo presents a romantic setting overlooking blushing ocean sunsets and the spectacular city skyline.

Wanna know how many wedding guests you can have?
Ceremony Spots
The Gili Rooftop (our fav) which is perfect for up to 90 guests.
The Bird Amphitheatre, suitable for up to 300 guests.
Dinner locations
Dalang Ballroom Seated – Suitable for up to 250 guests
N'Galawa Terrace Seated – Suitable for up to 150 guests
The Gili Rooftop Seated- Suitable for up to 60 guests
Reception locations
Dalang Ballroom Cocktail Style – suitable for up to 300 guests
N'Galawa Terrace Cocktail Style – suitable for up to 200 guests
The Gili Rooftop Cocktail Style – suitable for up to 110 guests
What kind of entertainment can I have at the Taronga Centre?
About the Gili Rooftop and entertainment
With a range of event spaces for your wedding, combined with unique locations for your bridal photos, Taronga Centre also has a natural ambience with a beautiful outdoor ceremony space, the Gili Rooftop. This world-class location offers the most innovative and distinctly different option that you and your guests will remember forever. The views are spectacular.
By partnering with the Taronga Centre, we offer a selection of musicians and Artists perfectly suited to an intimate Wedding on the Gili Rooftop. From our solo acoustic guitarist vocalists, to our beautiful string quartets, the options available for live entertainment in this beautiful space are more diverse than you may think. If you'd like some ideas on what would be perfectly suited to this wedding ceremony location, check out our two artists Vale and Azura, who both recently performed in the Gili Rooftop for the Taronga Centre Open Day 2021. Or our Artists Duke Music who performed there on NYE 2019.
Guests marvelled at their warm and intimate sound, which was the perfect underscore to the majestic views of Sydney Harbour.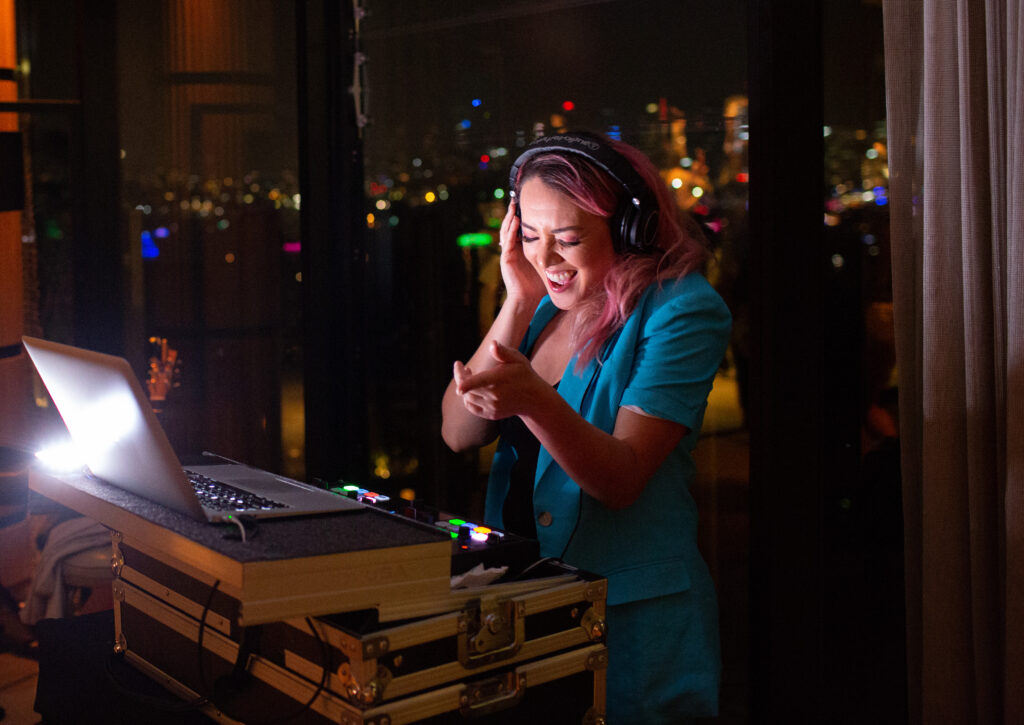 The Dalang Ballroom and Entertainment
The largest of all the Taronga Centre function spaces, the Dalang Ballroom is a contemporary and sophisticated space with stunning floor-to-ceiling glass windows and spectacular views of the city skyline and Sydney Harbour.
An impressive open plan dining area allows you to dress the room to fit your theme. The key features of this premium room include 180 degree views of Sydney's Harbour; a private balcony surround your function room along with a neutral and modern colour palette.
The Dalang Ballroom includes a pre-function area with quality furniture and state-of-the-art audio visual capabilities with unimpeded line-of-sight.
With the capacity to seat 300 guests cocktail style, or 250 seated, this is the most luxurious and celebratory of event spaces.
With an excellent live band such as the Luke Zanc Trio, or Duke Music, or even a killer sound system such as MIXADJ with DJ Brett Martin at the helm, our entertainment options can take you through Dinner music right to the Dance-floor and guarantee a once-in-a-lifetime party!
The N'Galwa Terrace and Entertainment
Located above the ballroom sits the N'galawa Terrace. With beautiful panorama views of the Zoo grounds and Sydney Harbour, this is a versatile space perfect for dinners, cocktail parties, conferences, and social celebrations.
The N'galawa Terrace features a private bar, the ability to divide the room with partitions, blinds, an internal sound system and a separate entry point for disabled access.
A more relaxed and intimate event space a variety of options are suitable for this location. We've featured artists such as our live band the Blackbird Collective, string musician and guitarist vocalist Greenhill Novak, and solo Acoustic artists such as Sam Higginson.
Book Your Entertainment for your Taronga Centre Wedding or Event
With a busy 2021 and 2022 of Sydney Weddings coming up, availability for our artists is filling up quick! If you'd like to book our artists to celebrate your special day with you at the Taronga Centre, contact us today or book a call with us at a time that suits you and we'll provide you with music recommendations perfectly suited to the Gili Rooftop or any of their other event spaces.
Event Vendors for the 2021 Taronga Centre Wedding Open Day included;

Styling – Divine Events
Audio Visual – Encore Event Technologies
Music and Entertainment – Event Entertainers
Floral – Floriade
Photography – Steph J Banic
Fireworks – Sydney Fireworks
Photography – Katsu Noriji
Photobooth and DJ – Upbeat Social